Social Sciences Centre (M.S.W.), Pune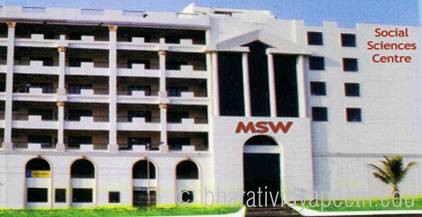 Social Sciences Centre (M.S.W.), Pune The Social Sciences Center of Bharati Vidyapeeth Deemed University was established in 1981-82 as a Post-Graduate Research and Training Centre to conduct, organise and undertake specialised studies in the field of Social Sciences. The Social Sciences Centre is a grant in aid Institution under the Commissionarate of Social Welfare, Govt. of Maharashtra. The specific objective of the centre is to impart education for the practice of professional social work leading to the post-graduate degree in social work viz. Master of Social Work (M.S.W.). The M.S.W. Program is recognized by the Commissionarate of Social Welfare Govt. of Maharashtra vide its letter No.SSW/Recog/B.V./83/D-6, dated 12/07/1982.
Vision
To enhance the advancement of professionalism in social work and to bring about social transformation and development through education and social entrepreneurship.
Mission
We are committed to facilitate the academic advancement and professional growth of the students in the area of Professional Social Work.
Mission
To create awareness among the students about the current social problems and to develop an attitude of commitment to various social issues as trained social workers.
To inculcate and enhance the professional skills of the trainee social workers through field work training.
To conduct action research and community development programmes in rural and urban settings.